Panasonic, the manufacturer of the Leica CS35 tablet mainly used in conjunction with Leica Viva TPS & GNSS solutions, Leica Nova TS/MS Solutions and Leica Captivate Software, has issued an important safety notice in relation to the tablet's battery pack. Under certain scenarios and for certain production lots, this pack can overheat and ignite.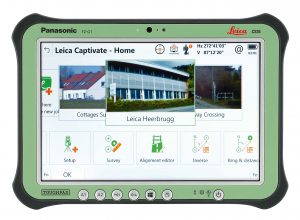 Panasonic provides how to proceed on their official website. Panasonic outlines the risk scenarios, gives detailed instructions on how customers can identify affected units, and provides a step by step guides on how to proceed. Find detailed steps here: Panasonic Support Information
Although Panasonic is the lead in eliminating the potential hazard, we are committed to the safety of our customers and dedicated to the quality of our product offerings. We are fully cooperating with Panasonic's recommended safety procedures, and we are awaiting further identification of the root cause of this issue by Panasonic.
As we receive more information, we will keep you informed. Should you have any questions, please contact your local Leica Geosystems support network or you can directly contact Panasonic support.
New Information from Panasonic for CS35 Tablet.  See attached PDF.